Karolina Finc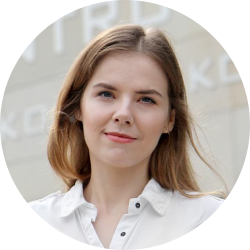 dr Karolina Finc
Liderka zespołu Phi Lab

email: finc@umk.pl
strona: https://kfinc.github.io/
siedziba: ICNT, pokój A.1.22
Absolwentka kognitywistyki, doktor nauk ścisłych i przyrodniczych. Aktualnie adiunkt w Interdyscyplinarnym Centrum Nowoczesnych Technologii UMK, lider zespołu Phi Lab oraz członek Centrum Doskonałości "Dynamika, analiza matematyczna i sztuczna inteligencja" (grupa Neuroinformatics & Artificial Intelligence). Jej zainteresowania naukowe skupiają się wokół badania dynamiki i plastyczności sieci ludzkiego mózgu podczas procesów poznawczych i odmiennych stanów świadomości. Chętnie popularyzuje wiedzę z zakresu analizy danych neuroobrazowych i nauki otwartej (open science). Prywatnie miłośniczka przyrody, filozofii, muzyki, tańca i śpiewu. Uwielbia improwizować w każdej dziedzinie życia.
Zainteresowania
konektomika
neuroobrazowanie
Prowadzone zajęcia
Neuronauka procesów percepcyjnych i uwagowych (wykład)
Running a reproducible research project (Cognitive Science)
Podstawy analizy danych fMRI
Seminarium licencjackie
Master seminar (Cogntive Science)
Project A
Wybrane publikacje
Finc, K. , Bonna, K., He, X., Lydon-Staley, D. M., Kühn, S., Duch, W., & Bassett, D. S. (2020). Dynamic reconfiguration of functional brain networks during working memory training. Nature Communications 11, 2435.
Finc, K., Bonna, K., Lewandowska, M., Wolak, T., Nikadon, J., Dreszer, J., Duch, W., Kühn, S. Transition of the functional brain network related to increasing cognitive demands. (2017). Human Brain Mapping 38 (7), 3659–3674.
Esteban, O., Ciric, R., Finc, K., Blair, R., Markiewicz, C. J., Moodie, C. A., Kent, J. D., Goncalves, M., DuPre, E., Gomez, D. E. P., Ye, Z., Salo, T, Valabregue, R., Amlien, I. K., Liem, F., Jacoby, N., Stojić H., Cieslak, M, Urchs, S., Halchenko, Y. O., Ghosh, S. S., De La Vega, A., Yarkoni, T., Wright, J., Thompson, W. H., Poldrack, R. A., Gorgolewski, K. J (2020). Analysis of task-based functional MRI data preprocessed with fMRIPrep. Nature Protocols 1-17.
Bonna, K.*, Finc, K.*, Zimmermann, M., Bola, Ł., Mostowski, P., Szul, M., Rutkowski, P., Duch, W., Marchewka, A., Jednoróg, K., Szwed, M.✉ (2020). Early deafness leads to re-shaping of functional connectivity beyond the auditory cortex. Brain Imaging and Behaviour 15(3). *equal contribution.
Burzynska, A. Z. , Finc, K. , Taylor, B. K., Knecht, A., Kramer A. F. (2017). The dancing brain: Structural and functional signatures of professional dance training. Frontiers in Human Neuroscience 11, 566.
Thompson, W. H., Kastrati, G., Finc, K., Wright, J., Shine, J. M, Poldrack, R.A. (2020). Time-varying nodal measures with temporal community structure: a cautionary note to avoid misquantification. Human Brain Mapping 41(9), 2347-2356.
Asanowicz, D., Gociewicz, K., Koculak, M., Finc, K., Bonna, K., Creeremans, A., Binder, M. (2020). Response relevance of visual stimuli modulates the P3b component and underlying postero-anterior sensorimotor network. Scientific Reports 10(1), 1-20.
Binder, M., Gociewicz, K., Windey, B., Koculak, M., Finc, K., Nikadon, J., Derda, M., Cleeremans, A. (2017). The levels of perceptual processing and the neural correlates of increasing subjective visibility. Consciousness and Cognition 55, 106-125.